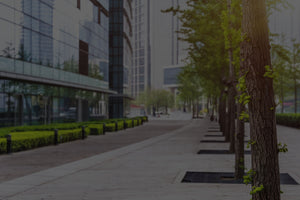 SIDEWALK SHIELD.
Protect your infrastructure from powerful tree roots
Easier than panels
Longer pieces make it easier to install than small interlocking panels
Longevity
Created from recycled HDPE which lasts over 100 years underground
Effective
Highest ASTM verified puncture strength on market.
WHY CHOOSE SIDEWALK SHIELD ?
Accessibility
Cracked or lifted sidewalks are tripping hazards and diminish wheelchair accessibility.
Shield vs Panels
Panels use an injected molded process that generates brittle material, prone to cracks and failure.
Size Selection
We offer a wide range of sizes and lengths ready to accommodate the needs for your specific project.
Lawsuits Usually Settle
Negligence can be easy to prove. Prevention can limit exposure to lawsuits and damages.
Industry Leading Thickness
Highest duty root barrier available with our 100 MIL (1/10th inch) thickness offering 200 pounds of puncture strength.
Recycled
Created from recycled HDPE that lasts over 100 years underground.